Morris Heating & Cooling is a furnace company that you can trust to get any type of project in Morganton, NC done right the first time. Residents of this Burke County city will want to have a trusted heating contractor caring for their heating systems. Morganton is the home of the Silver Fork Winery, a great place to spend an afternoon tasting wine and listening to live music. For those looking to go for a walk, the Catawba River Greenway provides many beautiful options. Kids will love a visit to the Catawba Meadows Park.
Your Local Trusted Furnace Company
At Morris Heating & Cooling, we want to take the stress out of dealing with a faulty heating system in Morganton. Regardless of the type of issue your heater is having, it's important to have an expert perform the repair. You can trust a professional to properly diagnose the cause of an issue and get it repaired in a highly meticulous manner. They'll be able to restore your heater to its original functionality and reliability so that you can have peace of mind about it.
Several signs can indicate an issue with your heater.
Increased energy bills
Unusual noises or odors
Frequent system cycling on and off
Affordable Heater Installation Options
If your current heating system is constantly needing repairs or has broken down completely, you'll want to have an expert get it replaced for you. At Morris Heating & Cooling, we're dedicated to installing energy efficient heaters that will be a great value for our Morgantown customers. We're happy to offer sound advice about various makes and models of heaters that could suit your needs while staying within your budget. Most heaters will run reliably for about 10 years, but as they age, they can become prone to issues. We can examine your current unit and let you know when it's time to get it replaced. Your new unit will be installed correctly, and we'll make sure you understand how to operate it.
Morganton's Best Heating Contractor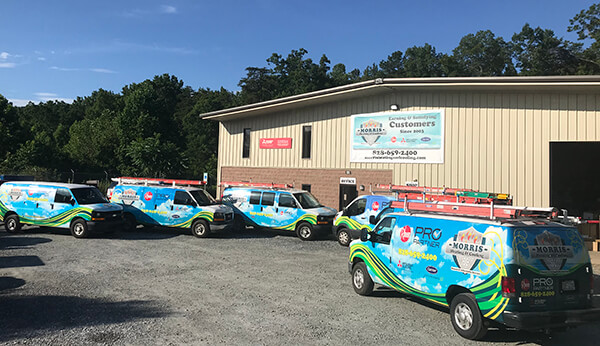 Regular maintenance could benefit any type of heater you have in your house. We're a furnace company ready to maintain all makes and models of heaters in a professional manner. You can rely on us to go over the various components of your heater to make sure that there aren't any hidden problems that need to be addressed. We'll check all of the safety systems and let you know if the air filters are dirty and need to be replaced.
Find out more about how we could be your heating contractor for any type of project in Morganton by calling our office today.
Not looking for a furnace company? We are also a full-service AC company. We can help with any cooling repair, installation, or maintenance needs you have.