At Morris Heating & Cooling, we want to be the heating contractor you trust with any type of project in Glenwood, NC, or the surrounding areas. When winter arrives in McDowell County, you'll want to have complete confidence in the reliability of your heating system. That's why we are a heating contractor that always delivers the best in home comfort. The area boasts an impressive musical heritage and has everything you need in a small rural community. The Glenwood General Store stocked all of the essentials, and the Glenwood Baptist Church is central to the community.
Glenwood's Best Heating Contractor
If you're dealing with a broken heater in your Glenwood home, the technicians from Morris Heating & Cooling have the skills needed to get it fixed. Faulty heaters can stop operating efficiently and can waste a lot of money if the issues don't get addressed in a timely manner. A technician from our team has the skills to determine the cause of your problem. After they know what's wrong, they'll give you a cost estimate to review and approve. We'll work in a highly meticulous manner in order to get your heater restored to its full functionality.
There are several signs of a faulty heating system.
Unusual noises
Uneven heating
Frequent system cycling on and off
Flickering pilot light
An Affordable Furnace Company
Replacing a worn-out heater in your home could wind up being a great investment in your property. At Morris Heating & Cooling, we're dedicated to installing energy-efficient systems that will be a great value for our Glenwood customers. You can count on us to offer sound advice about which type of heater would be right for your needs. We'll make sure that everything gets installed properly, and we'll take the time to show you how to operate and to care for your new heating system. When we're done, we'll make sure that all waste gets removed from your property for safe disposal.
Benefits of Annual Heating Maintenance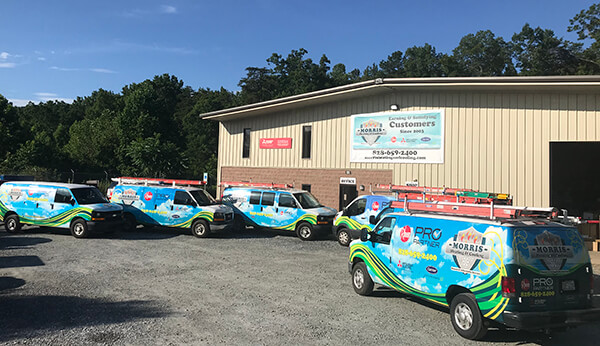 Getting an annual tune-up for your heater could extend its functional lifetime and save you money in the long run. We're a heating contractor ready to take care of any make or model of heater. You can trust Morris Heating & Cooling to perform an array of adjustment that will improve the overall efficiency and functionality of your heating system. We'll clean off the heating coil, adjust the burner, and check all of the safety systems. We'll let you know if you need to get the air filters replaced. When we're done, we'll take the time to answer any of your questions about the state of your heater.
Find out more about how Morris Heating & Cooling could help you with your heater by calling our office today.
Not in need of furnace services? We are also an air conditioning contractor. We can help with any cooling needs you may have. Call today to get started!