If you are looking for top-notch heating maintenance in Black Mountain, NC, then make sure to contact the experts at Morris Heating & Cooling right away. We'll provide you with furnace maintenance that is efficient and affordable and will keep your unit running right in the years to come. Regular tune-ups are very important as they allow you to avoid running into needing major repairs or having your unit break down prematurely. Avoiding tune-ups will increase the chance of you'll need to shell extra cash for a major repair or your unit breaking down before its time. Our team will provide you with the best home comfort assistance and make sure your heat is always running as it should. If you need the help of a reliable team, then contact us today.
Heating Maintenance Team in Black Mountain
It's a very good idea to have your heater checked out by an experienced professional at least once a time per year. In addition to ensuring your heater is working right, it's also required by some manufacturers if you want to keep your warranty. A professional will be able to deal with any minor problems before they become major issues as well as ensure your unit is running at its peak. This way, you won't have a unit that is struggling to run and leaving you with a higher energy bill. They'll also be able to extend the lifespan of your unit. Think of this as another step to protect your unit and ensure you always have the best heat for your home.
If you are still unsure if our furnace maintenance is the right choice for you, then here are some of the advantages you'll gain

Ensure high-quality home comfort
Save more money over time

Keep your warranty in play
Lower the odds of needing a major repair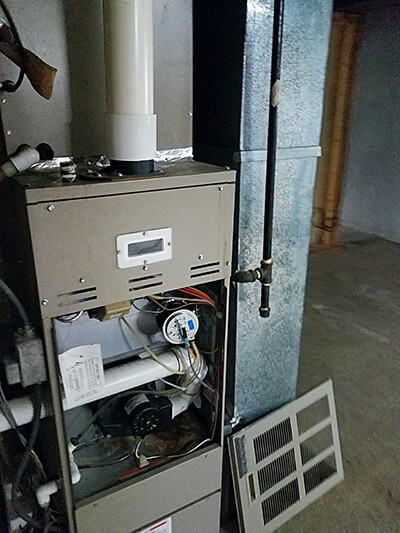 Your Furnace Maintenance Professionals
Morris Heating & Cooling has been helping Black Mountain residents for more than twenty years by making sure all their home comfort needs are taken care of. We will be right over to check your heater and ensure it's running as it should. We are extremely thorough and never cut corners because we don't want any issues with your unit to remain. Our goal is to make sure you get the heating you deserve and to provide you with peace of mind. We are a home comfort team that always goes above and beyond to help you out.
If you are a Black Mountain resident looking for expert heating maintenance then contact Morris Heating & Cooling today. We can also help with heating repair and installation services.
Looking to schedule your annual AC tune-up? We also offer expert air conditioning maintenance.